Spring 2014 Series Now in Session!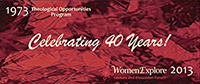 In 2013 WomenExplore celebrated 40 years of thought provoking lectures within a strong feminist community. We welcomed world class speakers and old and new friends into our community. We are excited to begin our fifth decade of feminist thought with the Spring 2014 series Exploring Choices and Reimagining Women's Lives!&nbsp&nbspDirections&nbsp&nbsp

Share & Care Circle and Planning Circle Meetings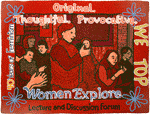 Join us each Thursday from 10-11 am for the Share & Care Circle aimed at getting to know each other and ourselves better. Share & Care circle meets each week the lecture series is in session. Participants have found that sharing with the group helps everyone prepare for the lecture/discussion and planning session that follow. Planning for the Fall 2014 series takes place from 1:45 pm to 3:30 pm. We encourage all to join and take part in choosing our next theme, titles, and speakers.